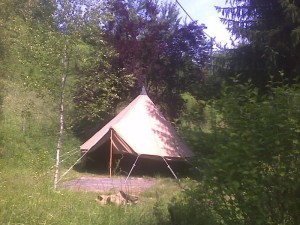 The Bell tent comprises durability, practicality and style  to bring you a comfortable, easily managed tent.  No matter what size you choose, they are remarkably easy to put up, and allow you to enjoy the benefits of a large interior surface with the simplicity of smaller tents.
Built from 12oz (FRW) treated polycotton (see Materials), with poles of douglas fir, and pegs of traditionally worked ash, the package weighs in around 40kg,(25kg canvas/15kg wooden parts) and is a compact, easily transportable option for most camping trips.
With rolling sides for those long hot summer days, and ample headroom for all, the bell tent is an ideal all weather option for family holidaying, and trecking with animals….they even seem to like it too!!!  Geting them to leave was another matter…stubborne as…..